Shepherd's Pie is a traditional Irish dish made with ground lamb cooked with peas and carrots and topped with a mashed potato crust. Easy and tasty, all year round!...
Campanelle is a ruffled cone shaped pasta that tastes delicious topped with a creamy white sauce. This recipe combines mushrooms, campanelle, and a creamy sauce to create the best pasta dish perfect for any night of the week!...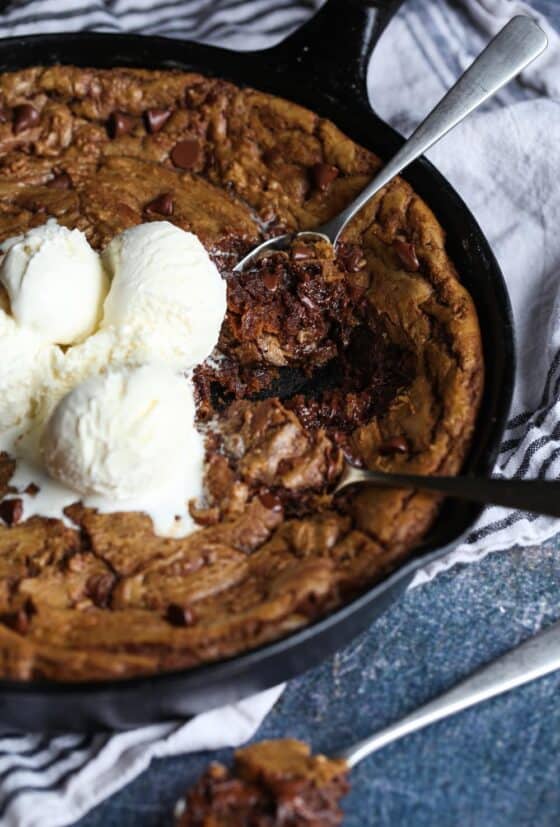 This Homemade Pizookie is a skillet chocolate chip cookie made with browned butter and dark brown sugar. It has a deep caramel flavor AND is loaded with both chocolate chips and chopped chocolate! An extra chocolaty, gooey pizookie best topped with ice......
If you've never made your own applesauce, you're missing out! It's one of those foods that tastes better homemade than store-bought. Plus, it's super simple to make! Our 3-ingredient applesauce requires just 25 minutes and 1 pa......
Kung Pao Tofu, a lighter, healthy (and vegetarian) take on one of my favorite Chinese takeout dishes! So good and loaded with veggies! Kung Pao Tofu I love Chinese takeout, but I don't love all the extra calories. That's why I like to take classic Chinese dishes and make...
This homemade street taco recipe is made with marinated chicken. Top with your favorite taco toppings and serve in a corn tortilla for a delicious weeknight meal or easy appetizer!...
This Mississippi Pot Roast is slow-cooked all day in the Crockpot! Come home to a perfectly juicy & tender roast that is great shredded over mashed potatoes, served in a sandwich or on top of a bed of lettuce....
Pasta Fagioli Soup recipe is a hearty classic Italian soup that's comforting, and takes less than an hour! It's filled with veggies and spicy sausage meat cooked in a hearty and rich tomato broth....
Making Grits is quick and simple following this easy recipe. Whether served for breakfast, lunch or as a side it is the perfect quick dish!...
Bright flavor and bold bites are what make this healthy quinoa salad with chickpeas, black beans, mango and avocado in a limey dressing an easy side dish or simple vegetarian meal. This recipe is brought to you by Kroger Of all the foods I thought I&#8......