Making Grits is quick and simple following this easy recipe. Whether served for breakfast, lunch or as a side it is the perfect quick dish!...
Colcannon is the perfect dish for any day you're craving comfort food! Combining the flavors of sweet cabbage, fried onion and creamy mashed potatoes creates a traditional Irish dish that will fill the family and leave them feeling satisfied!...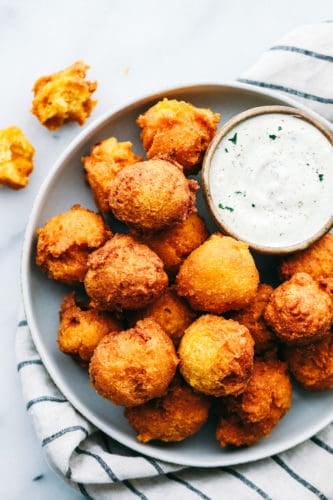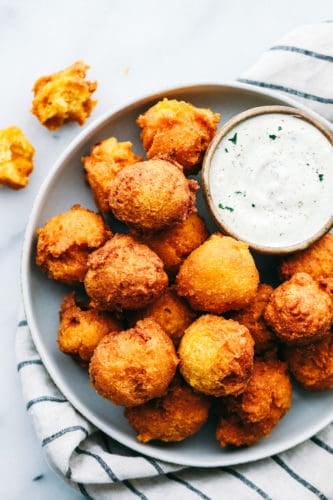 Southern Hush Puppies are round golf ball sized, light and flakey cornmeal batter that is fried golden brown on the outside and soft on the inside served as a side dish to any southern meal. These hush puppies are the perfect side dish ready in minutes! This side...
Deviled egg potato salad is the perfect combination of two potluck favorites: potato salad & deviled eggs! With a creamy and slightly texture, topped with bacon, it is irresistible....
This Macaroni Salad is a so simple to prepare. With easy ingredients like macaroni, ham, and a homemade creamy dressing it always a welcome addition to any table!...
Easy Roasted Asparagus is the perfect side dish recipe to accompany almost any meal. Tender asparagus spears caramelize beautifully while roasting adding so much flavor. Sprinkle with your favorite toppings for a simple and elegant side everyone will love!...
Baked sweet potatoes are a delicious and healthy side dish! They can be topped with pretty much anything and are full of flavor. Leftovers are perfect for casseroles or salads!...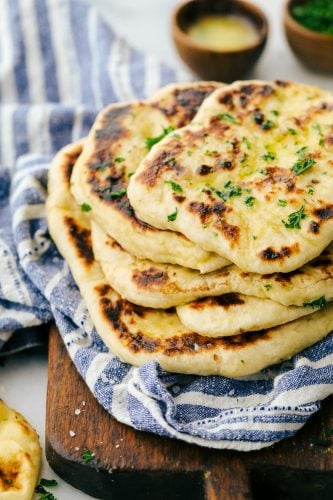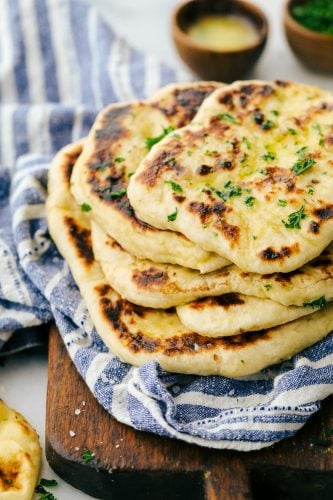 Perfect Naan Bread with Garlic Butter is a sweet and buttery flatbread with simple ingredients that is thick and rich that fluffs up and softens when cooked then brush on a garlic buttery sauce for added flavor. Learn how to make homemade naan bread! Naan Bread with...
This parmesan risotto recipe is a simple yet gourmet feeling dish. Made with arborio rice, parmesan cheese, and garlic it is a creamy and full of flavor as well!...
These Fondant Potatoes are a crispy, savory side dish that everyone will love. They're easy to make and are ready in under an hour!...